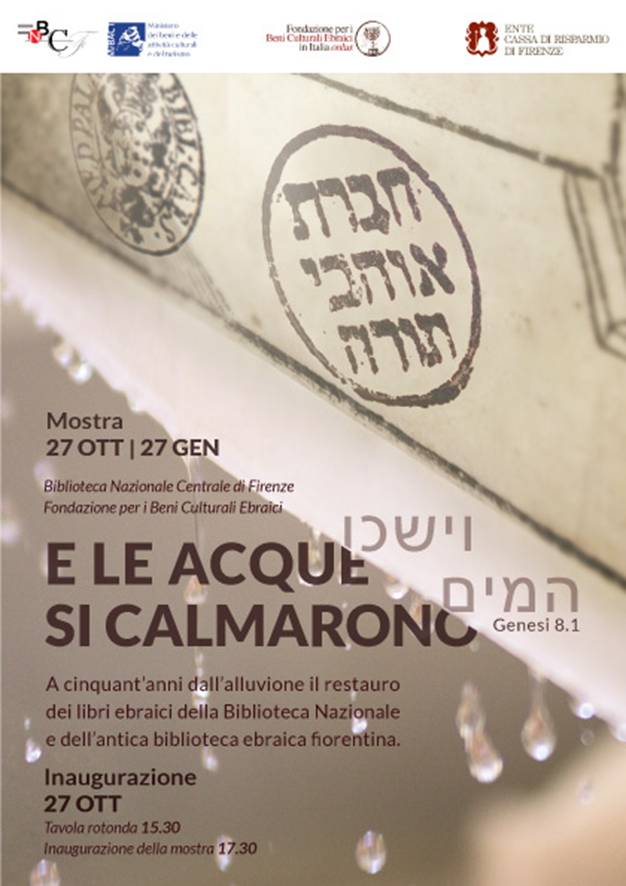 Hundreds of books, printed volumes and artefacts. Precious evidence restored to life once again. An extraordinary, symbolic return to the city.
"E le acque si calmarono" ("And the waters calmed"), is a major exhibition dedicated to the Jewish heritage struck by the fury of the River Arno. It will officially open on Thursday 27th October at 5.30pm at the Biblioteca Nazionale Centrale in Florence, preceded at 3.30pm by a conference on the historical significance of Jewish cultural heritage in Florence ever since its origins. The exhibition is one of the most hotly anticipated events among those scheduled in the Tuscan regional capital to mark the Fiftieth Anniversary of the Great Flood.
The volumes included were salvaged and restored thanks to the Foundation for Jewish Cultural Heritage in Italy, along with Florence's public library, the Biblioteca Nazionale Centrale, and the valuable contribution of the Ente Cassa di Risparmio di Firenze. Having been restored, they will allow visitors to explore the centuries of history of the Florentine Jewish Community, its contributions to the city's cultural and economic progress, and the many notable figures who made a difference.
27th October 5.30 pm
Biblioteca Nazionale
entrance via Magliabechi 2 – Florence
Opening exhibition "E LE ACQUE SI CALMARONO"
Conference 3.30 pm
CLICK HERE TO DOWNLOAD:
INVITATION and CONFERENCE PROGRAM