PRESS RELEASE
New website
The RESTORATION OF THE OLD JEWISH CEMETERY OF GORIZIA
Valdirose / Rožná Dolina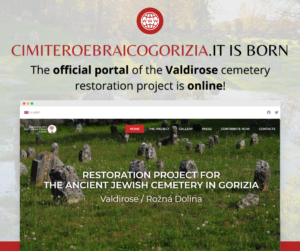 The Foundation for Jewish Cultural Heritage in Italy (FBCEI) has created a new website specifically for the restoration project of the ancient Jewish cemetery of Gorizia (Valdirose/Roznà Dolina).
There is an  icon on the home page banner of the Foundation's website: click on it and it will take you  to the historical and cultural features that highlight the value and special features of Gorizia's Jewish community, piecing together traces of memory with modern design and communication techniques.
The fast changing images will carry you  back in time, and  the timeline is updated as the project develops so you can follow it  step by step.
The Foundation's project and the website describing its phases will help you appreciate  Nova Gorica/Gorizia, European Capital of Culture 2025.
Unearthing the memory of the Jewish Community of Gorizia, a "Community without borders", and the restoration of its cemetery are harbingers of a multicultural osmotic synergy between the lands of the Italian Isonzo district  and Slovenia, symbolically united in the 2025 event.
The website will enable you to follow this fascinating and challenging adventure as it develops and is implemented.