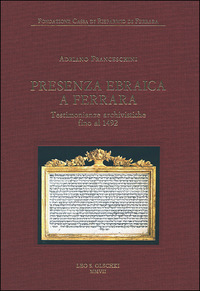 Adriano Franceschini
Jewish Presence in Ferrara – Testimonials from archives until 1492
Leo S. Olchki
An exceptional group of 1,329 documents on the Jewish presence in Ferrara is made available to those who are engaged in the study of history not only of Judaism. Thanks to the contribution of the Foundation Carife, the result of long years of intelligent work, makes a posthumous tribute to the author, Adriano Franceschini, whose research remains fundamental to the knowledge of the artists of the humanistic age and for the enhancement of the culture of Ferrara .
The Foundation for Cultural Heritage is among Jewish Organizations Supporters of this publication .