The Fondazione per i Beni Culturali Ebraici and the Fondazione Marco Besso contributed to the reprinting of the book: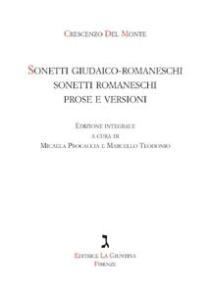 Crescenzo Del Monte Sonetti Giudaico-Romaneschi Sonetti Romaneschi Prose e versioni
Integral edition curated by Micaela Procaccia and Marcello Teodonio
Ed. La Giuntina – Firenze
Crescenzo Del Monte,  a Roman Jew, was born in the ghetto, two years before the breach of Porta Pia that ended the period of Ghetto. He would have died in Rome in 1935, three years before the racial laws would lay the foundations for close those same Jews in far more tragic menageries. He lived, therefore, fully and without disappointments, the age of Emancipation, when Italian Jews (and the Romans were the last) acquired the full rights of citizenship, and learned to live free, equal among equals, in the new Kingdom ' Italy.
He wrote in the dialect of the Roman Jews, the Jewish-roman, a mixture of Hebrew and ancient Roman vulgar, subject of study for historians of language. Not only he wrote in this ancient dialect, but it was also the first scholar and translated into Jewish-roman medieval texts, sixteenth and even Dante and Boccaccio. Editions of his works, published in part in his life and in part after his death, had long been unavailable. For this reason, even encouraged by requests from the world of scholars and the wider public interested in the events of the Roman Jews, we decided to republish the entire sonnets and prose of Crescenzo Del Monte, complete with notes and glossary that he had prepared.
Printed pages does not do full justice to this dialect lively, sharp, colorful, unmistakable cadence, still alive though partially processed. The volume is therefore accompanied by a CD, in which actors long specialized in Jewish texts-roman return at least the hint of the flavor and odor from the ancient speech of the ghetto of Rome.
The book will be presented February 27, 2007 at the Fondazione Marco Besso, Largo Torre Argentina 11.